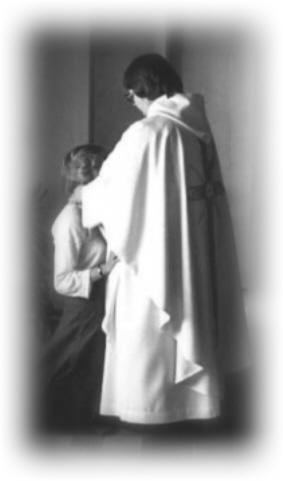 (Thirty years ago–1981–The Feast of the Visitation fell on a Sunday. It was transferred to Monday, June 1st, and on that day I was ordained to the sacred priesthood. This meditation—in the form of a 'letter' from Elizabeth to Mary—was given a year later as a sermon in the Convent of St. Helena, Vails Gate, NY. I offer it once again, in thanksgiving to God for the many blessings of being called to stand at His altar and offer the Holy Mysteries.
Please pray for me that I may continue to bear this sacred office faithfully.)
A Meditation on the Feast of the Visitation
My Dear Cousin:

I dictate this letter with faltering voice and with a great sense of weariness, for the years have multiplied upon my head. I am so old now that I've forgotten just how many years there have been. But I'm not so old that I've forgotten everything. In fact, it seems the events of long ago happened only yesterday, and now as the dusk of my life draws to a close, and the soft darkness of death approaches, I feel moved to share some of these memories with you.

For you see, dear cousin, you were really the only one who fully understood; and of course you were the only one who could—for you, too, were a woman, and a mother—and you, too, have borne a son dear to your heart.

That day long ago when you visited me so unexpectedly is as clear in my memory as the summer sun. Then, as now, we lived high in the hills of Judea, and the air was clear and sharp, yet heavy with the expectation of the late rains and of the harvest soon to be gathered in. It had been a long, cold spring for me, and I had felt all the aches of the ancient in my heavy body; even then, my years were many. And then there was this added burden—so welcome but still so heavy.

My belly grew and my legs ached with the weight of it, and I wondered as my time grew near whether or not my strength would fail me.

My body had never learned in its youth how to be a mother, and these lessons come late were taxing to body and soul. I found a loneliness in it, for my beloved husband was enveloped in a great silence that even my love could not seem to penetrate. He had been like this ever since his last turn of service at the temple in Jerusalem: utterly unable to speak, and with the light in his eyes turned inward as if he gazed upon a sight beyond human vision. I know now that his silence came from God, but then it was a hard thing to know, and I longed so for just a word from him—just a word to tell me that he shared both my pain and my joy. But his silence became my silence, and together we waited.

In all those silent months, I had long hours to pray and think, for my old body refused to labor in other ways. It, too, had turned inward, and all my energies seemed to pour into this new life within me, and to leave little over for outward concerns
.
And as I waited and prayed, and grew heavier and heavier, I remembered: I remembered Sarah as she must have been: like me, both joyous and frightened with the advent of a pregnancy so ardently longed for. I remembered her faithfulness, her willingness to follow Abraham to new lands, to uncertain futures, to the eternal seeking of what must have seemed an illusory promise. Sarah knew; she knew what it was to wait, and pray, and remember. She knew what it was to be a mother, to bear a son, to let him go.

Then there was Rachel: won by Jacob after long years of labor; sharing him with her sister Leah. Rachel, too, must have known long years of silence and grief and prayer. And then at last God "hearkened to her and opened her womb" and she bore her son Joseph. Rachel knew: she knew what it was to wait, and pray, and remember; she knew what it was to journey ever forward and follow a God who demanded all; Rachel knew what it was to give that all as she labored over the birth of her son Benjamin, the son who claimed her life as the price of his own.

And so the long months went on, there on the hills of Judea. The days passed, and I waited, and my belly grew. I found it hard to sleep, and often rose long before the dawn to sit in the soft darkness and watch the light slowly creep over the eastern mountains. Those were the moments when I felt utterly at peace; I knew that my beloved had been faithful to God; I knew that the life within me would not die; I knew that the silence and waiting would come to an end.

Those quiet mornings were precious to me, and I felt my own heart sing as the first sleepy birds began the morning chorus. And singing brought to mind that other old friend from the past: Hannah. Like me, Hannah had been long barren, and sorely tormented by her affliction. She, too, had known the scorn of others as the years rolled past. She, too, waited and prayed most fervently, and the Lord heard her prayer and had pity upon her. In due time Hannah conceived, and bore a son, and called his name Samuel, for she said, "I have asked him of the Lord." Hannah knew what it was to bear a son, and to let him go—to lend him to the Lord's service; and she knew how to rejoice in her blessing: "My heart exults in the Lord; my strength is exalted in the Lord. There is none holy like the Lord, there is none besides thee; there is no rock like our God … He raised up the poor from the dust; he lifts the needy from the ash heap, to make them sit with princes and inherit a seat of honor. For the pillars of the earth are the Lord's, and on them he has set the world."

Hannah knew how to wait, and pray. Hannah knew how to sing.

And so, dear cousin, the months passed. And that clear spring day dawned, and the birds sang, and I went about the chores of my silent house, waiting, ever waiting.

Then you came. You entered my house and greeted my beloved and me, and with the sound of your young, hopeful voice, the child in my own womb leapt for joy. 

From the deep pit of silence within me came the cry, "Blessed are you among women, and blessed is the fruit of your womb! … And blessed is she who believed that there would be a fulfillment of what was spoken to her from the Lord."

And your voice broke into song: "My soul proclaims the greatness of the Lord, my spirit rejoices in God my Savior; for he has looked with favor on his lowly servant." You sang, O Mary, my cousin, and you brought joy and peace to our silent house. And then you departed upon your own way, already swelling with the child within your own womb, and I waited, larger and heavier, and so near to my own time of delivery.

Yes Mary, we both know what it is to wait, to bear a son, to let him go, to sing.

And in these many years since, we have not ceased learning to wait, to pray, and to sing. Even in those moments of the greatest grief, we have known joy. My own John left us so early; his father's blessing was upon him, and he went forth to prepare the way of the Lord; he went forth to be the prophet of the Most High … It was hard to let him go, and yet we knew we must, for he was ours no longer; the Spirit had claimed him from time before time, from that moment in the temple when my beloved Zechariah was struck dumb.

But it was hard to let him go: Sarah's son was spared the knife; my son was not.

Yet still we sang: "Blessed be the Lord, the God of Israel; he has come to his people and set them free." And you, my dear: you were so very young, yet you bore so very much more. You bore the Son who redeems us all; you bore the pain of scorn and rejection even as he lay in your womb; you bore the abandonment of Golgotha; you bore the incredible news of his resurrection; you bore the sight of his risen body and sore wounds. 

You bore all this, my dear Mary, because you are the most favored one: You are she, chosen above all women to be the Mother of God.

You are she, my dear, who has become the mother of us all. Yes, even of me, your old, old cousin. For you are she who has taught us all to wait, to pray, to remember, to sing.

You are she who has taught us to bear forth within our barren bodies the Word of the Lord.

You are she who has taught us to seek the fruit of Christ within the hearts and minds and souls and bodies of all whom we meet.

You are our Mother, calling us forth to give birth to Love.

"Blessed are you among women, and blessed is the fruit of your womb!"

With weary joy, my dear, I remain your affectionate cousin,

+Elizabeth+