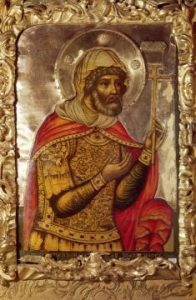 Now when the centurion and those with him, who were keeping watch over Jesus, saw the earthquake and what took place, they were terrified and said, 'Truly this man was God's Son!' (Matthew 27:54)
The Centurion

The others said He was dead,
To be sure, I drove my spear into His side.
His Blood splashed down upon me
And I felt a chill to my spine.
The sun is setting; the women have gone.
Some old man has come to claim His naked Body.
We have divided his garments among us.
I won His tunic with a throw of the dice.
I will keep watch where they have laid Him.
It is the least I can do.
Perhaps this Robe of His will warm my flesh.
Indeed, my heart seems strangely warm.
Good Friday 2018     (c) Susan Creighton
Tradition holds that Longinus was the Roman centurion who was in charge of the men guarding the Cross with Christ crucified on it at Golgotha. Later, he was baptized and began preaching the Gospel himself. He died a martyr's death for his beliefs, and was later canonized.
2 Responses to "The Centurion"